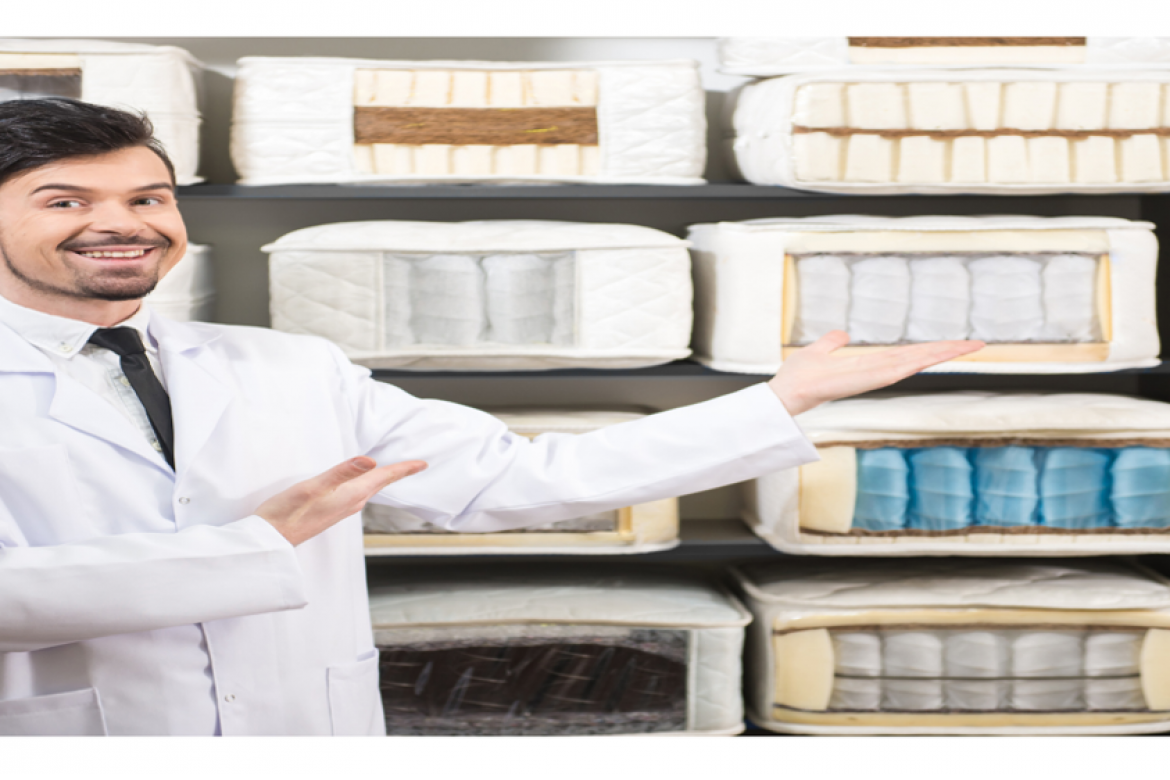 First and foremost, thanks for stopping by!
Here's the start of a blog series that gives you a 'sneak peek' into our manufacturing process, so you get a deeper understanding of the different technologies used at Springwall Sleep Products that enables us to manufacture comfortable, luxurious, and supportive mattresses for everyone.
For the first blog in the series, we're going to take a look at pocket coil mattresses.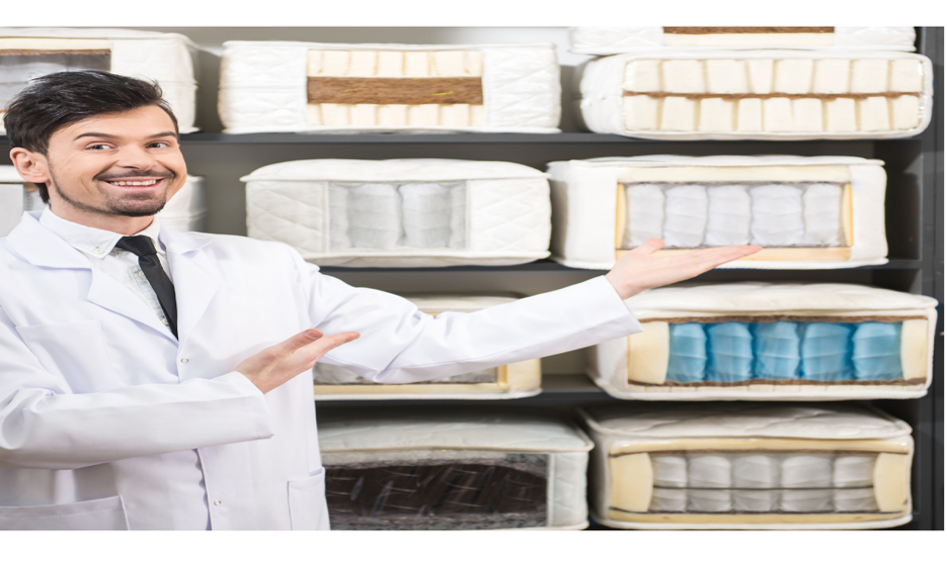 So, let's get right into it.
What are pocket coil mattresses and what's so special about them?
Well, that's simple, pocket coil mattresses are made up of coils that are wrapped in individual pockets.
Some pocket coil mattresses are also known as hybrid mattresses because they incorporate 2 or more technologies such as coils and memory foams throughout the comfort layers. But we'll save that for another segment of our series.

The "zoned" pockets refer to the different areas of support throughout the entire mattress. In our case, the comfort zoned pocket coils have a reinforced centre third lumbar support section, designed to provide correct postural alignment, and reduce partner disturbance.
You might be asking yourself why the centre third?
Well folks, that's where your body needs it most.
Let's take a look at our Premium Elite collection – the epitome of affordable luxury.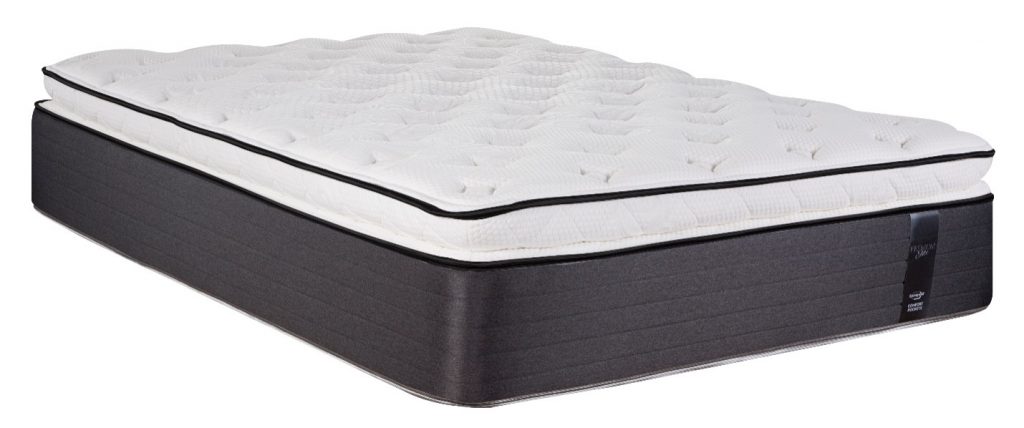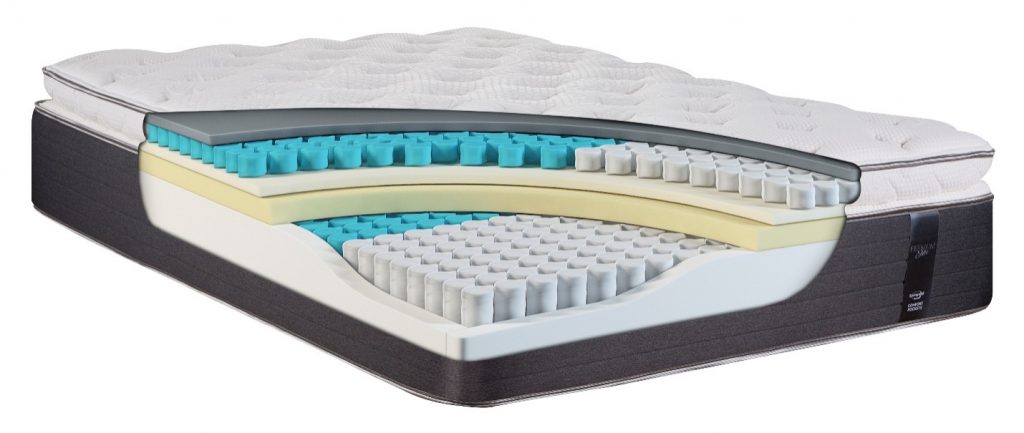 Before we get into the thick of it, I thought it would be worthwhile to let you know about the different materials in our Premium Elite mattress.

The top layer is a quilted material with what we call a tack & jump sown pattern that has a super soft bio foam with gel + a 20oz hollow fiber layer. Below that is a layer of 1-inch viscoGel foam with graphite (the gray layer). Followed by a layer of 1200 micro coils, these are mini coils between two layers of foam.

The layer below the micro coils is a 1-inch-high density plush bio comfort foam, followed by 2-inches of high-density bio foam. As you can see, we add 2 different types of high-density foam, one for support, and one for comfort. There's also an added poly fiber pad layer before we touch the 1200 zoned comfort pocket coils. The center third zoned pocket coils are typically a stronger steel coil than the ones used in the other two thirds of the mattress. (if you look at the mattress cut out, the center-third pocket coils are blue in colour)
All of which are wrapped in a thick foam encasement which sits at the perimeter of the whole mattress.
Did you know that your torso is the heaviest part of your body? This area requires the proper technology to offer the ultimate lumbar support and evenly distribute your weight across the entire sleeping surface of the mattress. This alleviates any pressure points, while properly contouring to your body.

The foam encasement is a thicker foam that forms the perimeter of the mattress surrounding the pocket coil core and offers the sleeper a larger, sturdy sleeping surface, and a sturdy edge for sitting on when you're getting out of bed. Never again will you slide off the edge of your bed while you put on your socks.

We typically use a high-density bio foam and soy-based bio foams with no fillers or additives that guarantees greater durability, increased support, and long-lasting comfort.

Reducing partner motion transfer is another added benefit to pocket coil mattresses. The individually wrapped coils enable a person to move/ turnover without disturbing the other person laying on the bed. As DJ Khaled would say "Major Key Alert".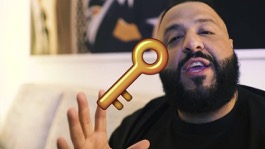 Long gone are the days that you wake up when your partner heads to the bathroom or wakes up for work.
Something to keep in mind when do research for your next mattress, is that comfort is subjective to each person and should not be seen as one size fits all.

However, no doubt there are similarities with sleeping patterns, the surest and simplest way to ensure you are getting the right mattress for your sleeping needs is to visit a showroom and actually lay on the different types of mattress and really embrace the different "feels" of fabric and support systems out there.

If you don't want to visit a showroom, blog posts like this and customer reviews go a long way to help better understand the different technologies of mattress collections. At Springwall, we want to help you make the best decision possible. You can send an us an email at info@springwall.com or click the contact us button to find a phone number to speak with a customer service rep nearest you.
It's obvious that everyone is going to have different tastes and requirements when it comes to the type of mattress they prefer. But if you're less than pleased with your current mattress, you may want to give a pocket-coil mattress a chance.

You can click this link to find the different collections that we offer.
Through expert craftsmanship and luxurious materials, we are able to offer our customers the type of mattress they deserve – a mattress that helps you sleep better and wake up feeling refreshed.

With our comfort pocket coil system, we can minimize motion transfer and offer unrivalled support. Our mattresses are a great option for everyone. Even memory foam lovers can benefit from pocket coils, thanks to the different hybrid mattresses available.
For our showroom lovers, don't forget mattresses tend to take about two weeks to be broken in after the point of purchase. So, don't be surprised if the mattress you receive doesn't feel exactly like the one in the showroom, give it sometime and trust the process.
Stay tuned and be sure to comeback for next week's blog post.
Sleep well my friends, JM